Wireworld Chroma USB Type A to Type mini B

Chroma USB brings the rewarding sound quality of Symmetricon design down to a price that is only slightly higher than standard cables. Wireworld's Symmetricon® design utilizes 4 signal conductors to create 4 efficient paths for electromagnetic energy; twice as many as conventional USB cable. The Chroma also features Compolisex® 2 insulation technology to control electrostatic energy. Another special feature of all Wireworld USB audio cables is a shielded, noise absorbing power conductor that is isolated from the signal conductors for cleaner power and the ultimate in sonic purity.
Wireworld USB audio cables utilize unique new designs that minimize jitter by providing sharper waveforms than the standard USB cable design. They provide the least jitter available at each price level, producing distinct improvements in tone quality, clarity, image focus, smoothness and dynamic range. All Wireworld USB cables feature proprietary DNA Helix® or Symmetricon® design geometry.
All of these cables feature Composilex 2 insulation technology, which minimizes the triboelectric noise produced by conventional insulation materials. Many understand that insulation materials influence the performance of a cable. Wireworld created unique polymer composites designed specifically to optimize fidelity. The benefits of Composilex 2 are especially noticeable on Series 7 USB cables where the reduced interference preserves the purity of the original sound thereby greatly improves performance. These new materials push the boundaries of there expectations for fidelity by letting us hear, see and feel more than ever before.
Wireworld's improved USB audio cables recently earned the TAS Golden Ear and Digital Audio Cable of the Year awards on the Platinum Starlight.
There is a fundamental difference between the transfer of computer data and digital audio signals. Computers are able to transfer digital data without loss, because the data moves in the robust form of blocks, which do not depend on specific timing between the sending and receiving devices. However, digital audio signals are continuous streams of data, which are quite fragile, since the digital processor must remain perfectly locked onto the timing of the signal to avoid data losses.
The Limitations of digital audio processors and cables create timing errors known as jitter, which remove portions of the audio signal and replace them with noise and distortion. Cables tend to round off the square waveforms of the signal, making them less clear to the processor, thus increasing jitter. This rounding effect varies greatly among cables and a truly superior digital audio cable can make great improvements in sound quality.
WireWorld USB cables feature a unique flat design that allows it to function over significantly longer runs than conventional USB cables and provides improved sound quality in media server, PC audio, and other digital music applications.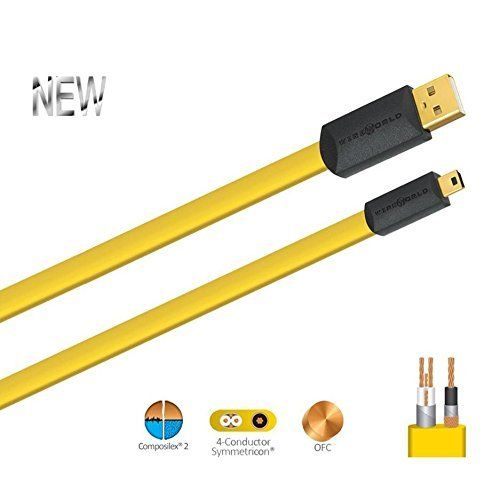 Specification:
Conductor type: Oxygen-free copper
Wire Gauge: 24 AWG
Insulation: Composilex 2 Insulation reduces interference and greatly improves performance
Cable Design: Symmetricon
Available lengths: 0.5m, 1.0m, 2.0m, 3.0m & 5.0m
Lifetime Warranty