The most important benefits of optical signal transmission are obvious:
never any noise or interference caused by external electrical and/or magnetic signals, and
optical fibres are free from any deterioration.
What makes the Van den Hul OPTOCOUPLER Mk II special is the fact that both ends of the single fiber are shaped in the form of a convex (spherical) lens.

This has many advantages:
The OPTOCOUPLER Mk II's lens shaped input and output surfaces produce an extra focusing of the light beam. Light entering the cable at an angle is focused and therefore undergoes 50% less wall reflections per unit length inside the fiber (i.e. the light path is shorter). This not only reduces the loss of light intensity (attenuation) (even when the cable is being bent), but also the time difference of travel between the light rays traversing the fiber at various angles (so-called modal dispersion) is much reduced; A pulse of light traversing the optical fiber therefore undergoes less time-smear and this in effect reduces the amount of jitter distortion experienced at your D/A converter.
The OPTOCOUPLER Mk II's convex shaped fiber ends furthermore bring about a better controlled fiber top surface contacting the optical transmitter and receiver-end. In this way optical insertion losses are reduced to a minimum.
Regarding the cable itself we guarantee a minimum transfer capacity of 250 Megabit/second.

All in all the Van den Hul OPTOCOUPLER Mk II forms a perfect high bandwidth, low-loss and low jitter optical connection, able to serve you with a very high sound and/or picture resolution at an unsurpassed definition.

CAUTION !
Handle The OPTOCOUPLER with extreme care; Do NOT push hard when inserting its plugs into your audio equipment. This may result in a damaged lens. If inserting the connector goes a little stiff, apply a TINY amount of lubricant (for instance our "The SOLUTION") and make sure NOT to wet the lens with it. When cleaning the lens be very careful and use soft optical cloth only. Both ends of the optical fiber are protected by removable caps. To protect the sensitive optical end-surfaces it is advised to re-apply these caps during storage and transport.

The colour of the cable jacket is mother-of-pearl and the connectors are white with a red ring including "Van den Hul" printing.

The OPTOCOUPLER Mk II is available in three optical connector combinations (Toslink is a square plug, Miniplug is a round plug):
Toslink - Toslink (T-T)
Toslink - Miniplug (T-M)
Miniplug - Miniplug (M-M)



The OPTOCOUPLER Mk II is supplied in luxurious consumer boxes. Each box is provided with an orange contrast sticker indicating the connector types mounted (T-T, T-M or M-M) and the length contained.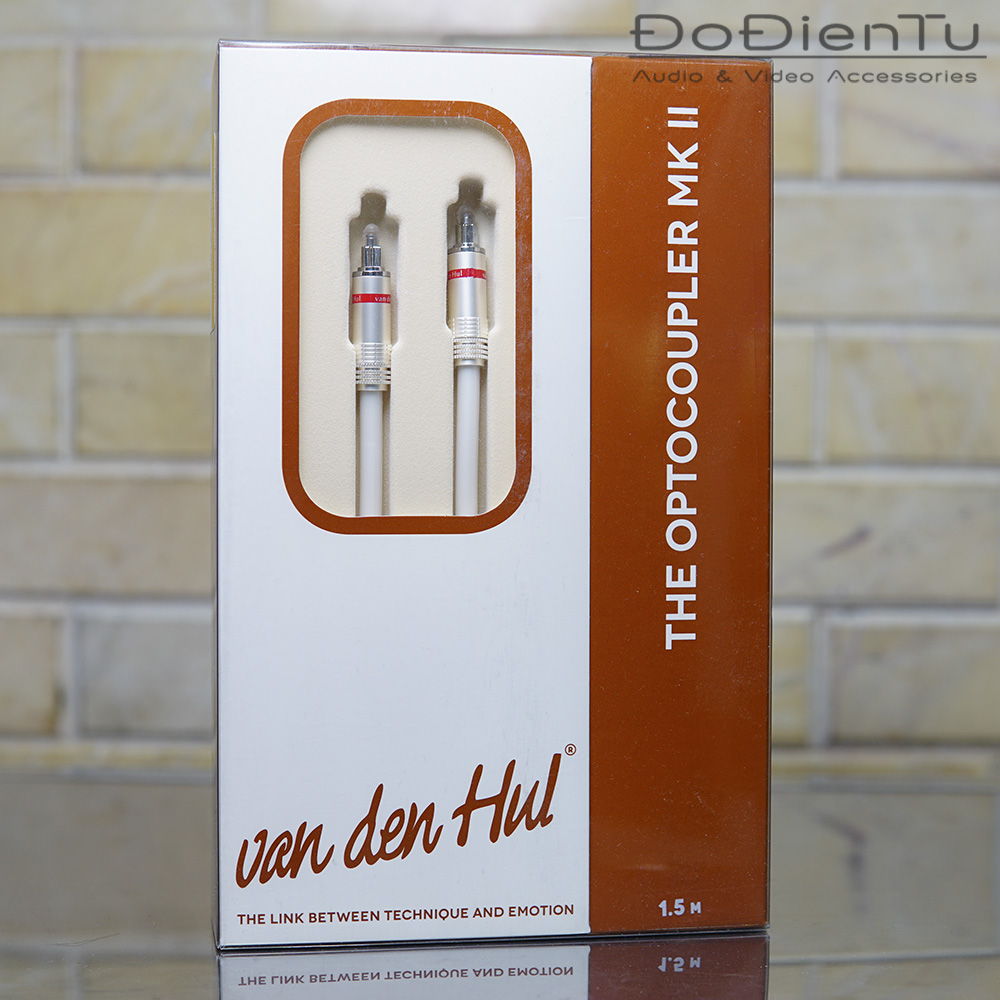 THE OPTOCOUPLER MK II (HALOGEN FREE)

material
Optical Fiber
product category
interconnect - Unbalanced, Digital, Entry-level
cable type
Optical fiber
design purpose
High bandwidth, low-loss and low jitter optical digital audio and video interconnect
external diameter
7.5 mm.
jacket colors
Mother-of-pearl
standard sales units

Single packed with Toslink - Toslink (T-T), Toslink - Miniplug (T-M) or Miniplug - Miniplug (M-M) connector combinations in 1.0 m. lengths;
Other lengths: please consult your van den Hul dealer or the van den Hul distributor in your country.

remarks

Additional Specifications:
Application Wavelength: 650 nm
Transmission Capacity: > 250 Megabit/s
Attenuation: < 0.20 dB/m
Insertion Loss: 0.15 dB

Connectors need to be factory mounted